Time tracking made easy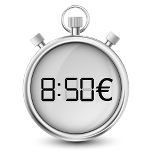 Content
Introduction
Thank you for downloading the app!
Those who work should receive fair wages.
Regardless of success, it is usually the time spent on employment that is honored. This app offers everything you need to create receipts for the time to be billed.
When I was dealing with the topic of time recording, inputs came from many sides. I tried to integrate as much as possible into the app.
The app 'Times & Wages, Projects Timer' offers support for the following scenarios:
Working time recording for self-employed and employed individuals with consideration of:
Flextime accounts

monthly representation of actual working time compared to the target working time
vacation, illness
unpaid leave, sick days without sick pay

Working time laws regarding the maximum duration of work and minimum duration of breaks
Wage calculation with comparison to the rules for minimum wages
Weighting of Sunday / holiday work or Saturday work
automatic time clock depending on the location
Logging project work

logging of an unlimited number of individual projects
unlimited number of additional information regarding the project that can be saved, such as location, project activity, client, etc.

Driving time

Consideration of the relevant rules for truck drivers in the EU or Switzerland (ARV2)

Billing of recorded times and articles to the client
All recorded periods can be weighted individually. General multipliers for Saturdays or Sundays and public holidays can also be set.
A tabular representation can be printed as proof or sent as a PDF by email. For further processing, csv or XML files can also be generated, which can be read into a spreadsheet (Excel, OpenOffice, LibreOffice, Numbers).
The app can be downloaded free of charge from the App Store. It is financed by advertising or an InApp purchase that unlocks all functions and removes the ads.
I hope you like the app. I appreciate your feedback. Many suggestions from customers have already been included as a feature in this app.
Svend Back, sb-apps.com