For freelancers, rental car drivers and other self-employed, the app offers the possibility to create invoices, print them and share them as PDF files by email or otherwise, e.g. via WhatsApp from FaceBook. You can also write invoices as an employee, both on behalf of your employer and for part-time jobs.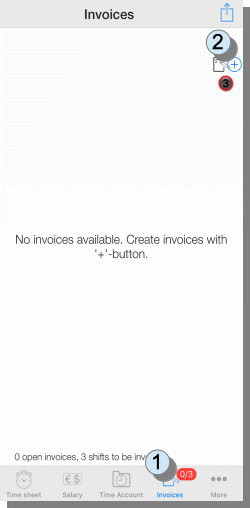 If there are time records that have been prepared for the calculation, a note (1) appears in the navigation menu below (here "0/3"). The first number indicates the number of open (unpaid) bills.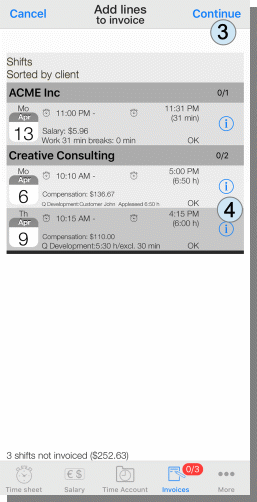 3 entries are prepared for the calculation. A new calculation is started by pressing the '+' button (2).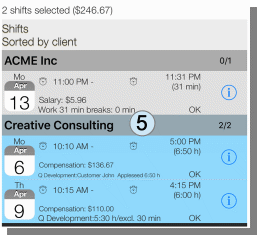 From the completed time records that have been marked for the calculation, you can now select the entries that are to be calculated. They are sorted according to the addressees of the invoice.
You can select individual entries as well as select all entries for a company (5) by clicking on the heading.
Details of the recorded times can be obtained by pressing the 'Info' button (4). Once all entries have been selected, you can go to the menu with "Continue" (3), where you can enter further details about the invoice.
To write an invoice, the basic data of the recorder should first be recorded. So the name is taken from the initial configuration.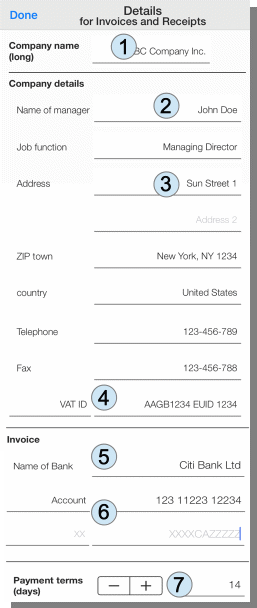 The information can be found as basic data on the invoice, credit notes, receipts, etc..