If you scroll lower in the configuration menu, the option "Invoice?" appears below (8) (s.a):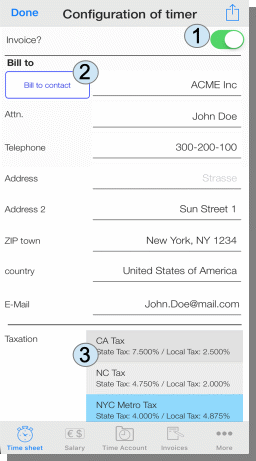 If the option "Invoice?" (1) is selected, all future entries for this timer type will be saved with a bill-to address. The bill-to address can also be selected from the iPhone's address book(2). Taxation with 2 taxes is supported at the same time (3). In Germany there are e.g. reduced and a full value added tax. In the above case, the NYC Metro Tax consist of a 4% state tax and 4.875% local tax. The tax rates can be varied in the Config menu.
It makes sense to create separate type of timer per client, e.g. Per address. Regardless of this, a separate billing address can also be defined for an individual time entry or an invoice can also be omitted.
Only invoices marked a "Invoice" are offered later on in the billing menu when it comes to creating the invoice.

In the time recording menu you can see from the "€" symbol that a specific entry is marked for billing. If the "€" symbol is missing, this entry is not intended for invoicing.